Great news for Tsukimichi fans! Tsukimichi is back after waiting for a year with the announcement of Tsukimichi Season 2. It deserves another season as season 1 was so successful that fans flooded social media asking for more.
We're about to share exclusive information about Tsukimichi Season 2 that hasn't been discussed before, so buckle up your seat belts and get ready to travel to the land of Tsukimichi Season 2.
When will Tsukimichi Season 2 be released?
Tsuki ga Michibiku Isekai Douchuu by Kei Azumi and Mitsuaki Matsumoto The Japanese fantasy light novel series was first serialized in 2012 on the website Shosetsuka ni Naro. Kotora Kino released serialized manga adaptations since 2015.
The first season of Tsukimichi was announced by C2C to air from July to September 2021, and after a 1 year hiatus, they announced another season. While no exact date has been shared yet, we are expecting a release on July 2023.
Tsukimichi Anime Storyline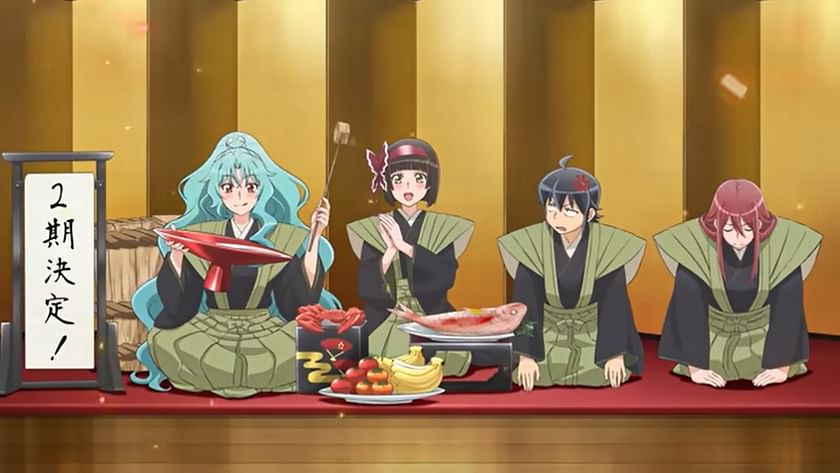 The story of Tsukimichi follows a boy named Makoto Misumi whose parents formed a mysterious contract with the Goddess years ago and one day he finds himself thrown into another world where he meets the goddess. Gods called him "terrible and ugly", he refused to even look at him.
The goddess gave him the ability to understand any language except humans which sent him far away from human civilization. Whatever the situation, Makoto's inherent physical and magical abilities awakened which attracted all kinds of demi-humans and similar creatures and with them, he wanted to build a peaceful community where everyone could coexist together. To find out what happens next, you have to watch this anime series.
Tsukimichi Season 2 Cast & Staff
The Japanese cast and staff list has been shared on the Tsukimichi Season 2 official website, and we have shared the same below.
Japanese staff
Original: Kei Azumi (published by Alphapolis)
Original illustration: Mitsuaki Matsumoto
directed by: Shinji Ishihira
Series/screenplay composition: Kenta Inohara
Character Design: Yukie Suzuki
assistant director: Isshin Shimizu
action director: Yuji Suzuki
monster design: Hiroshi Arisawa
layout supervisor: Hiroki Ikeshita
chief animation director: Yukie Suzuki and Yumiko Nakamura
Main animators: Yushi Takagi, Ryo Haga
Total video surveillance: Tomoya Takahashi
color design: Masato Takagi
Art director/setting: Masahiro Sato
art board: Yuki Nagayoshi
stand design: Koji Nagatomi, Akane Imada, Yoko Tanabe
Special effects: Yuuichi Furuichi
cinematographer: Masaaki Onodera
edit: Go Sadamatsu
sound director: Hata Shōji (Don Juan Voice Team)
music: Koji Takanashi
music production: sunshine
Animation production: C2C
Japanese cast
Makoto Misumi- Natsuki Hanae
Tomoe – Ayane Sakura
Mio – Akari Kito
Emma – Saori Hayami
Belem – Shinpachi Tsuji
Toa – Yurika Kubo
Linon – Aiko Ninomiya
Goddess – Rena Ueda
Tsukuyomi life – Tomoaki Maeno
Hazar – Yuki Arata
Louisa – Arina Kamakura
Lanina – Saika Kitamori
Patrick = Rembrand – Kazuhiko Inoue
Morris – Shoji Sato
lime = latte – Taku Yashiro
aqua – Lynn
Ellis – Minami Tanaka
Has the Tsukimichi Season 2 Trailer Been Released?
Yes, there is a trailer available on youtube if you want to see the visuals from Tsukimichi Season 2.
Where to Watch Tsukimichi Season 2?
You can watch it on local Japanese TV channels if you are in Japan, or you can watch it on Crunchyroll or HIDIVE. The streaming platforms haven't confirmed their stream yet, once it's confirmed we'll be sure to update it.
Conclusion
We know that you'll want to know what happens next, and the hype for Tsukimichi Season 2 is back as we see fans from around the world tweeting about the announcement. We have to admit that the stage is set, and we can't wait for it to hit our screens of course.
We also perform the same analysis for many other series in the category continuation animeso check it out:
Isekai wa Smartphone to Tomo ni Season 3
Kemono Jihen Season 2
Oniichan wa Oshimai Season 2
Captain Tsubasa Season 2